Build Muscle, Burn Fat

Without Working Out!
Emsculpt NEO is the latest technology in body sculpting that is perfectly suited to build muscle and burn fat simultaneously. Dr. Jay Kang is the first Plastic Surgeon in Northwestern, PA, to offer this technology. With our office conveniently located in Erie, PA, patients from the surrounding areas of Pittsburgh, Buffalo and Cleveland can take advantage of our new technology.
Monday – Friday
8:00am – 4:30pm
Emsculpt NEO, the latest body sculpting technology
Emsculpt NEO is a non-invasive, non-surgical and pain-free approach backed by extensive, published clinical research. It is safe and effective for use by both females and males and produces results quickly. In addition, it is FDA-cleared for breaking down fat, reducing the abdominal circumference, firming up the buttocks, thighs, arms and calves, and improving the tone and strength of targeted muscle groups.
WHAT IS EMSCULPT NEO AND HOW DOES IT WORK?
EMSCULPT NEO is an FDA-approved revolutionary patented technology based on applicators that simultaneously emit synchronized radiofrequency (RF) and HIFEM+ (High-Intensity Frequency Electromagnetic).
First, the radiofrequency increases the temperature of the targeted muscle, similar to how a warmup would. Then in less than 4 minutes, it raises the subcutaneous fat temperature to cause apoptosis, i.e., fat cell destruction. As a result, the dead fat cells are slowly removed from the body. 
Emsculpt Neo works by producing a level of muscle contractions that are impossible to achieve with any degree of exercise, no matter how rigorous or intense. HIFEM technology makes supramaximal muscle contractions to build and strengthen muscle. 
Each 30-minute session is the equivalent of doing 20,000 sit-ups but without the soreness! You can even specifically target stubborn problem areas, whether your abdominal muscles, buttocks, upper arms, thighs or calves.
WHAT ARE THE PROVEN RESULTS OF EMSCULPT NEO?
After numerous extensive clinical studies, Emsculpt Neo proved effective in producing:
30% reduction of fatty tissue
25% increase in muscle mass
19% decrease in abdominal separation (rectus diastasis)
2.3-inch (7 cm) reduction in waist circumference
12-16 weeks (about three and a half months) worth of workout improvements in terms of muscle mass
WHO IS A GOOD CANDIDATE FOR EMSCULPT NEO?
You are likely a good candidate if you are located in Erie, PA, or the surrounding area and are looking for a non-invasive treatment that will help you decrease excess fatty tissue and strengthen your muscle mass and definition.
Since the energy system used by Emsculpt Neo (HIFEM) penetrates to a depth of approximately two and ¾ inches (7 cm), it is most effective for those with a BMI of less than 35.
WHO IS NOT A GOOD CANDIDATE FOR EMSCULPT NEO?
We do not accept patients who are currently pregnant or nursing. In addition, if you have metal or electronic implants in the treatment area, you may not be a good candidate for Emsculpt Neo.
For patients with a BMI higher than 35, we can advise other methods of treatment.
HOW IS THE TREATMENT PERFORMED?
Our treatment is straightforward. The only preparation we ask our patients for is good hydration.
When you arrive at our Erie office, we typically ask you to lay down, then place a strap on the treatment area, followed by applicators. Slowly, your provider will raise the RF and HIFEM+ settings based on your comfort level. You will feel the sensation of heat and muscle contractions.
The goal is to reach 100% for both the RF and HIFEM+ modalities, and it takes 30 minutes.
ARE EMSCULPT NEO TREATMENTS PAINFUL?
Although you will feel the intensity of muscle contractions, it should never be painful.
IS THERE ANY DOWNTIME?
Following the treatment, you can resume all your usual activities without any restrictions.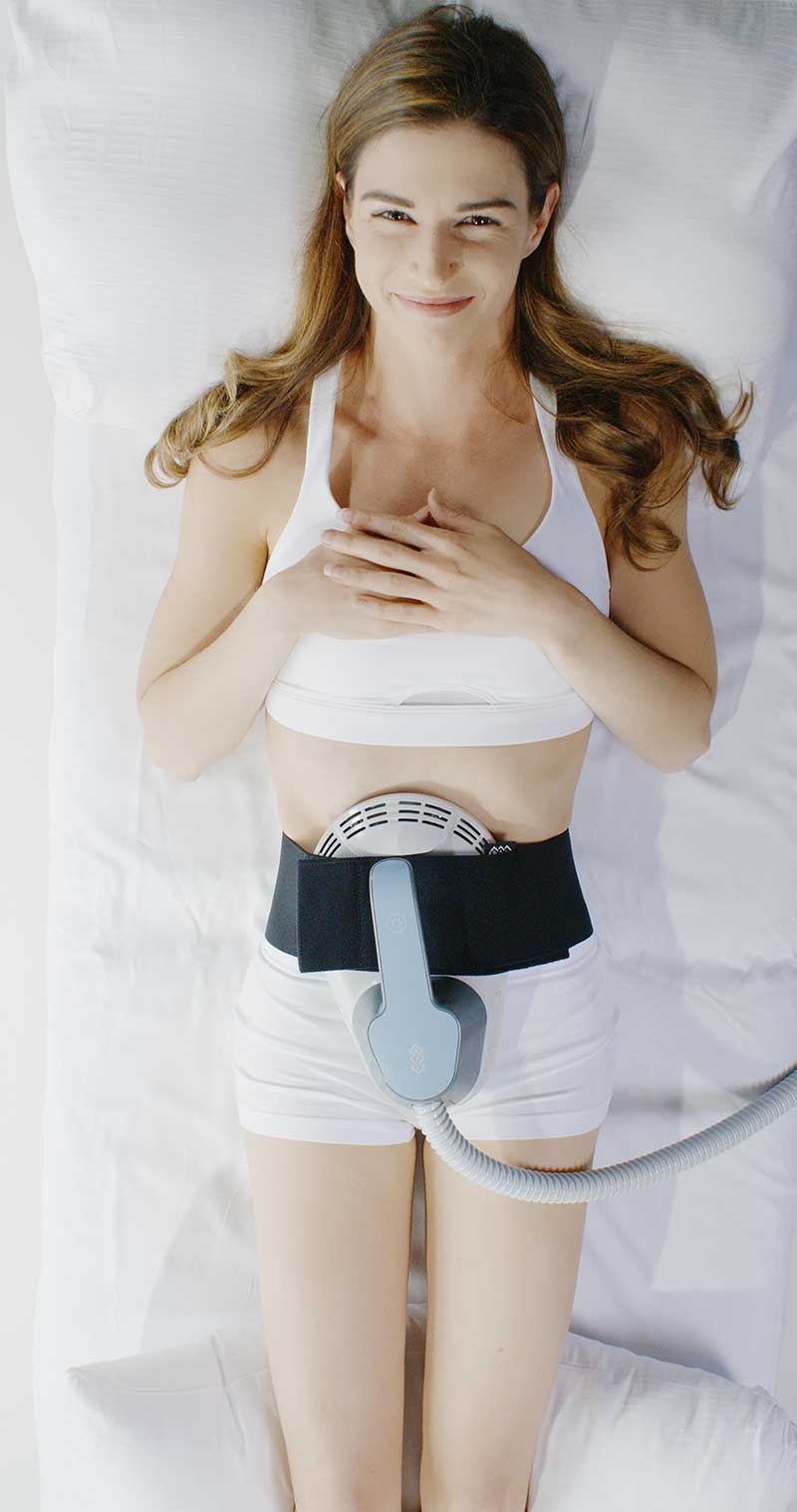 WHAT ARE THE DIFFERENT BODY PARTS THAT CAN BE TREATED BY EMSCULPT NEO?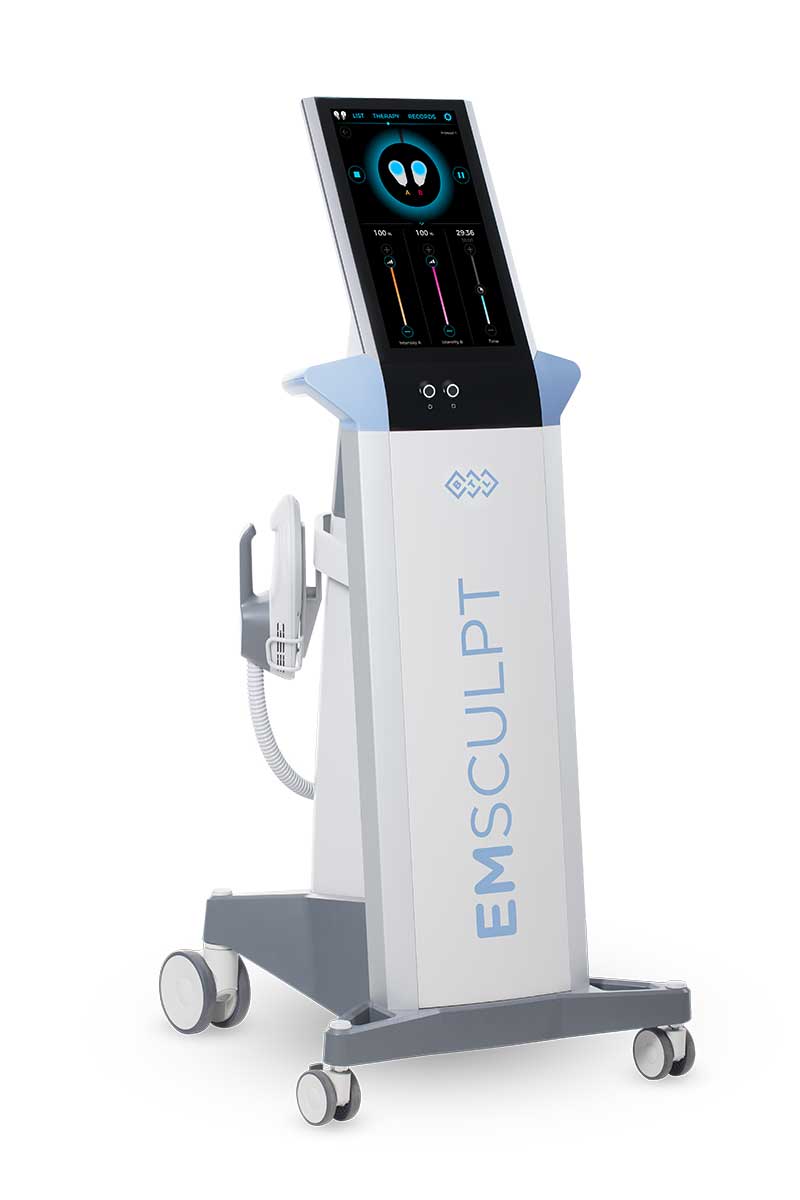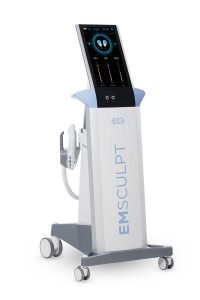 Emsculpt Neo is for a non-invasive breakdown of fat, reduction in circumference, improvement of muscle strength and tone in Skin Type I to Skin Type VI individuals. The body parts we can treat are:
Abdomen
Biceps
Buttocks
Calves
Outer, inner, front or back thighs
Triceps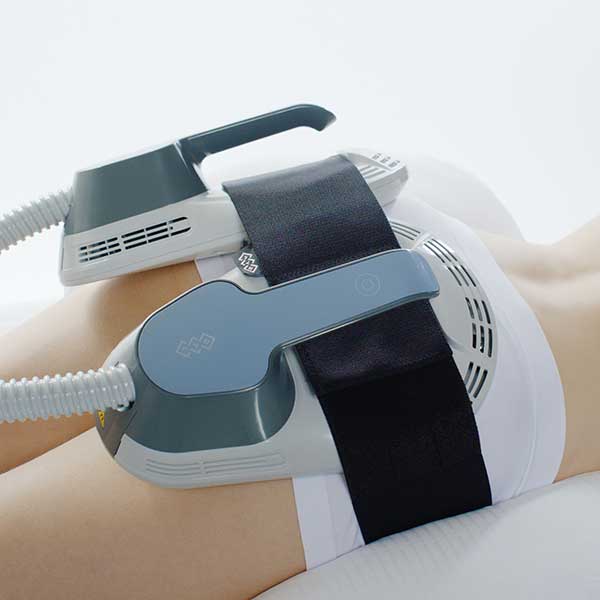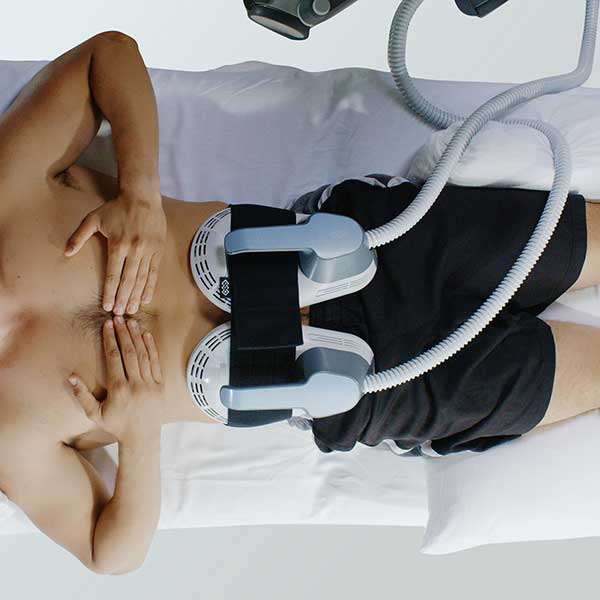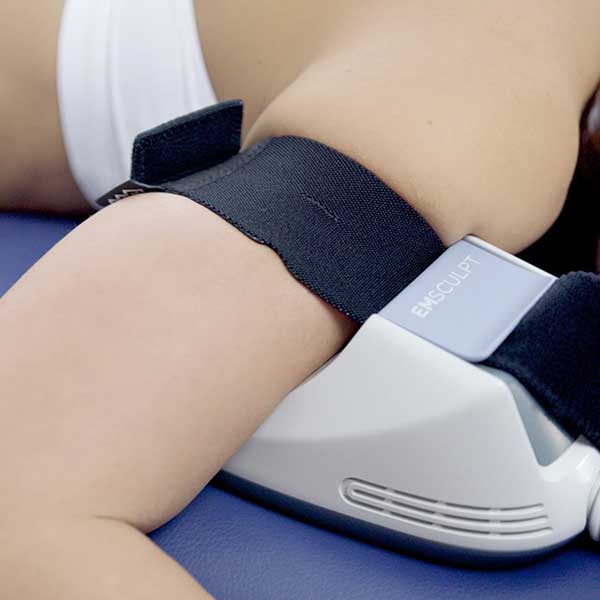 CAN I REPLICATE THE EMSCULPT NEO "MUSCLE CONTRACTIONS" MYSELF?
Unfortunately, no. Even though it is always good to work out, HIFEM+ energy contracts the muscle fibers at intensities that are not achievable during your workout.
HOW MUCH MUSCLE GROWTH CAN I EXPECT?
Clinical studies showed, on average, a 25% growth in muscle volume. However, results and patient experience may vary.
HOW MUCH FAT REDUCTION CAN BE ACHIEVED BY EMSCULPT NEO?
Clinical studies show an average of 30% reduction in subcutaneous fat.
ARE THE FAT AND MUSCLE CHANGES ACHIEVED PERMANENT?
After the treatment, the fat cells are permanently destroyed, and dead fat cells are flushed out slowly by the body. However, the gains in muscle may need ongoing activity, either by your workouts or by "maintenance" treatments in our Erie, PA office.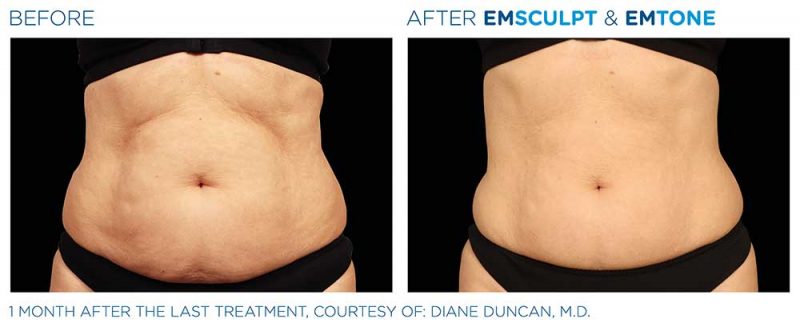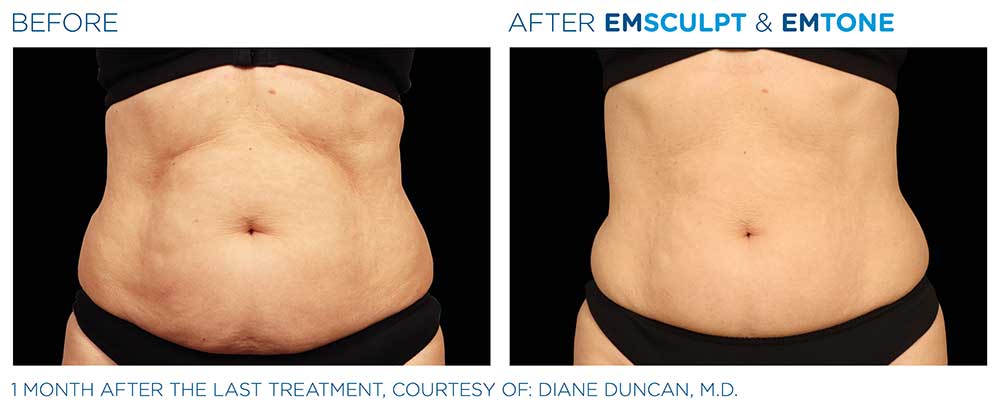 WILL I LOSE WEIGHT WITH EMSCULPT NEO?
No, the Emsculpt NEO procedure is a body contouring treatment and is not for weight reduction. Instead, the therapy helps reduce your fat and build your muscles.
HOW LONG BEFORE I SEE THE FINAL RESULT?
Every patient's results may vary, but final results are generally seen three months after the last treatment.
WHAT IS THE COST OF EMSCULPT NEO?
When you come into our Erie office for a free consultation, we will create a customized treatment plan for you. At this time, we will be able to provide an accurate cost estimate.
SHOULD I CONSIDER EMSCULPT VERSUS COOLSCULPTING?
Coolsculpting is a fat-freezing technology that "spot-treats" excess fat. Unfortunately, there is no muscle growth, skin shrinkage, improvement of visceral fat or reduction in rectus diastasis. Since we have experience in both modalities, in most circumstances, Emsculpt NEO is the better treatment.
SHOULD I CONSIDER EMSCULPT NEO VERSUS LIPOSUCTION OR TUMMY TUCK?
Dr. Jay Kang Cosmetic, Plastic & Reconstructive Surgery and Cosmetic Laser Spa is uniquely qualified to answer this question and provide you with the best recommendation.
Emsculpt NEO is an entirely non-invasive procedure. It does not require surgery, needles, anesthesia or downtime. However, some patients may have excess skin, fat or diastasis recti, and those concerns could be better addressed by liposuction and/or tummy tuck.

WHAT MAKES YOUR OFFICE UNIQUE TO PROVIDE THIS TREATMENT?
Erie's Dr. Jay Kang directs our Plastic Surgery office. Dr. Kang is a double board-certified surgeon with nearly two decades of experience in non-invasive and invasive body contouring. During this time, Dr. Kang has performed hundreds of body contouring procedures.
When you arrive at our office, we will evaluate you at your initial FREE consultation, and all invasive and non-invasive options will be discussed. If your specific needs are out of the scope of Emsculpt NEO, a different strategy will be advised.
Our Erie, PA office is different from other body contouring providers in the Pittsburgh, Cleveland and Buffalo areas, run mainly by non-surgery and non-Plastic Surgery providers, and cannot offer any surgical options.
Disclaimer: The results may vary from person to person. or anything similar